Coal Creek Sediment Reduction and Bank Stabilization
November 21, 2018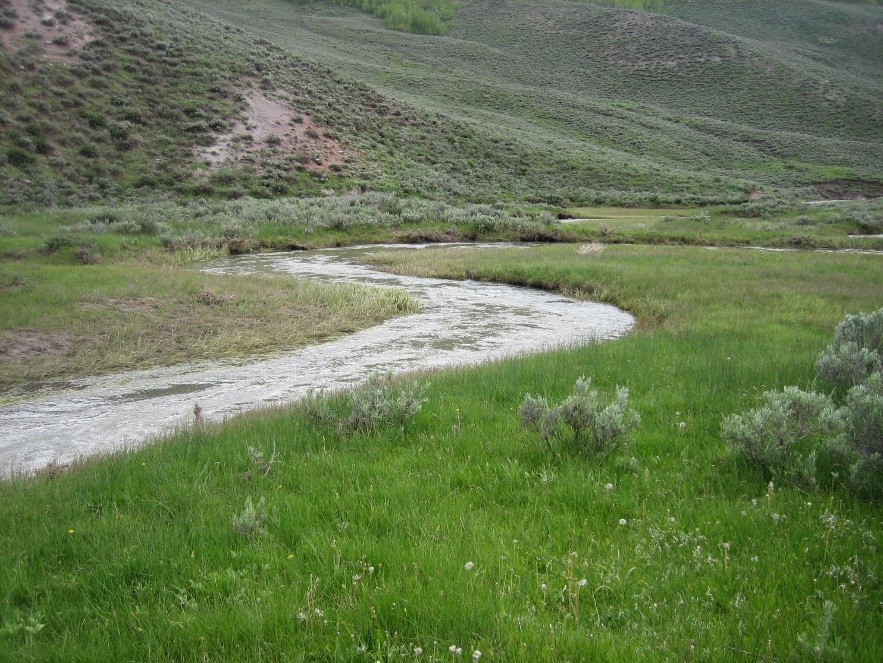 AVI – Thanks much for helping get everything finally over the hump with Coal Creek stuff! It was a long journey, but with some willow plantings last month, we put the finishing touches on a project that at several times during the ~10 years it was batted around seemed like it was one that was destined to last for a long time. We'll see how the runoff treats everything on the project, but I think we should be in really good shape once the vegetation starts to take hold out there. We've already received a ton of positive feedback from hunters and anglers that are using the roads out there and they've held up really well during the October rains we had out there.
I think I speak for everyone at Game and Fish when I commend you guys for sticking with this process through the years and remaining flexible right up to the very end with all of the challenges that came with the project. You guys did a great job of communicating what was going on and adapting designs to accommodate any tweaks from either permitting or with natural channel design principles. And it was a breeze for me to work with the contractors after you guys aligned everything that needed to occur with them. And at times it was just downright fun to work with you guys, which makes the process a heck of a lot easier.
Thanks much again for all of the assistance and I look forward to working with you again on future projects. Attached is a brief evaluation.
A. Knowledge of Agency Requirements – Rating: 4
Remarks: AVI was flexible throughout the many changes and long timeline of this project (>5 years), and also were able to make necessary changes to designs in light of ACoE permitting requirements. They also worked very effectively with WGFD bidding and billing requirements.
B. Coordination & Communication – Rating: 5
Remarks: Throughout the long time span of this project, AVI did a great job of communicating project changes, working between WGFD and the contractor, and facilitating permitting requirements with various federal agencies. Conference calls were initiated by AVI in a timely fashion during major events during the process.
C. Consultant Personnel, Supervision & Management- Rating: 4
Remarks: The AVI team worked well together to complete on-the-ground surveys, designs and design revisions, the permitting process, and on-site construction. They were particularly good working with the contractors. The skillset of the group was particularly strong with civil engineering and road/drainage designs, but not quite as strong in natural channel design principles
D. Work Schedules & Deadlines – Rating: 5
Remarks: Their ability and experience working effectively with the multiple facets of a project clearly helped them complete components of the project in a timely fashion, with high quality results
E. Data & Report Accuracy – Rating: 4
Remarks: All plan sets appeared to be of high quality and detail pages were either good, or they took suggestions from our team and implemented them in revisions.
F. Project Budget & G. Project Invoicing – Rating: 4
Remarks: AVI was aware of our budget concerns and situations and put forth effort to keep costs appropriate. We did have a single addendum to their contract to handle some extra design revisions related to permitting. AVI was thorough on their accounting, both with design and construction billings. If any questions arose with billing (which was rare), they were very quick to respond.
H. Overall Performance – Rating: 4
Remarks: AVI was a very good asset for us on the completion of this project, and demonstrated very good flexibility with timelines and the longevity of this project as a whole. While they had some limitations in their expertise of natural channel design, they were very open to recommendations and outside suggestions.
Many thanks!
Luke Schultz,  Project Manager, WGFD
SCORE                   CRITERIA RATING
5                              Consultant consistently exceeded expectations.
4                              Consultant occasionally exceeded expectations.
3                              Consultant consistently met expectations.
2                              Consultant occasionally failed to meet expectations.
1                              Consultant consistently failed to meet expectations.